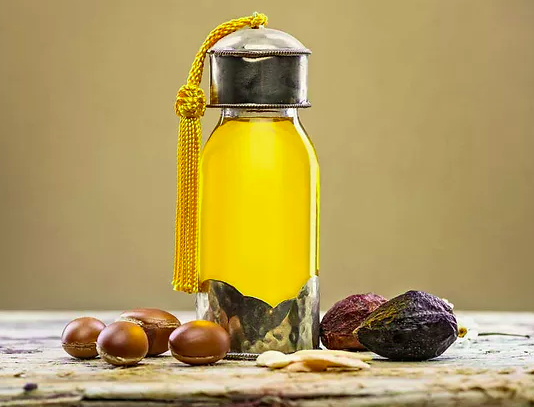 *CUSTOMIZATION UPON REQUEST
The cosmetic properties of Argan oil make it a strong ally of ancient beauty; thanks to the high content of unsaturated fatty acids, about 80%, of which oleic acid (about 40-50%) which is an omega 9 fatty acid and linoleic acid (30%) which is an omega 6 fatty acid.
Argan oil also has the advantage of containing vitamin E, carotenoid pigments and compounds with antioxidant properties, which is why it is considered an excellent remedy for:
– Moisturize dry skin;
– Protect from sun damage, some studies have shown that argan oil's antioxidant activity helps to protect the skin from free radical damage caused by the sun.
– Prevent burns and hyper-pigmentation, in the long run it helps prevent the development of skin cancer including melanoma;
– Treat acne: argan oil has anti-sebum effects, which can effectively regulate the amounts of sebum on the skin;
– Cure skin infections: argan oil has antibacterial and fungicidal properties. This gives the ability to help treat and prevent bacterial and fungal infections of the skin;
– Help wounds and cuts heal faster;
– Soothe atopic dermatitis;
– Prevent and reduce stretch marks;
– Keep nails healthy;
– Help fight bad cholesterol;
– Stimulate brain activity.
In addition, Argan oil treats a number of skin conditions such as psoriasis and rosacea, is a good aid to the cardiovascular system, has anti-aging effects and is also used for soft, healthy, shiny and frizz-free hair.
For further information regarding this solution you can read this presentation on Demix International Consulting's Blog.