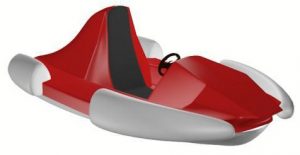 *CUSTOMIZATION UPON REQUEST
The Barting is an innovative electric nautical machine, destined to integrate into the Jet-ski market, which:
– Can accommodate one or two passengers
– Meets all safety requirements
– It is equipped with an electric motor
– It is unmistakable
– Fast, interactive, silent, ecological and economical.
The Barting is equipped with an intelligent cell that includes a positioning unit, a shock alarm and a radio, all on an impenetrable video screen. Barting electric batteries are interchangeable in the form of rack clips, rechargeable on land or on the boat.
The performance and basic specifications of the machine are:
– Propulsion of the propeller
– Penetration into water by means of a leaf system with the calculation of permanent stabilization
– A speed of up to 80 km / h
– An autonomy of 4 to 5 hours with even a minimum engine (4.5 / 6 HP)
– A weight of less than 90 kg.
For further information regarding this solution you can read this presentation on Demix Group.